Shipping: Shipping fees start from GBP £2.70
2016 Road to Rio Silver Proof Coin - Silver Coin
2016 Road to Rio Silver Proof Coin - Silver Coin for only GBP £79.68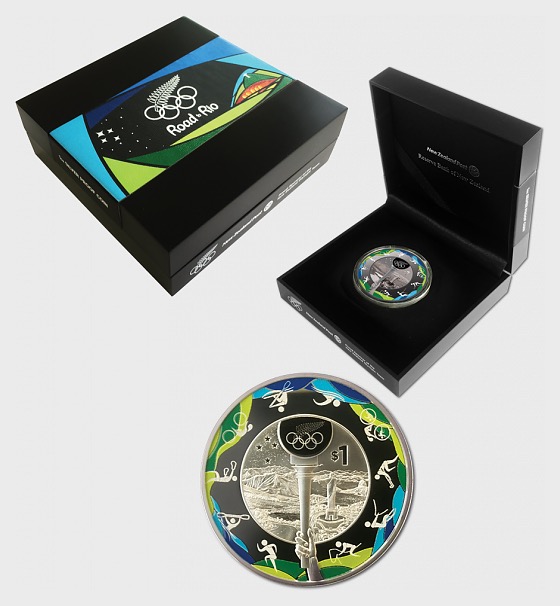 21.07.2016

Obverse design: Portrait of Her Majesty Queen Elizabeth II by Ian Rank-Broadley, United Kingdom Coin design: Jonathan Gray, New Zealand Post, Wellington, New Zealand

BH Mayer's Kunstprägeanstalt GmbH

0.999 silver

1 troy oz

-

40mm

One New Zealand dollar
About 2016 Road to Rio Silver Proof Coin
When our New Zealand athletes take to the world stage in Rio de Janeiro, they will strive to realise their dreams and inspire the nation at the world's greatest sporting event - the Olympic Games. These limited edition coins are the perfect way to show your support on our Road to Rio.
Athletes from around the world will unite (on 5-21 August 2016) at the 28th Summer Olympic Games to compete in 42 different sports, contested at 32 competition venues, spread across four regions of Rio. Since the inception of the first Olympic Games in 1896, our Kiwi athletes have inspired generations, winning a total of 103 medals - 43 gold, 19 silver and 41 bronze.
'Be the Inspiration' is the theme of New Zealand's 2016 Olympic Games campaign. It tells the story of how we as a nation support and inspire our athletes as they prepare to pull on the iconic black singlet - which has been worn with pride by generations before them - and in so doing, inspire us.
The journey to Rio is symbolised by a long ribbon that weaves its way throughout our motu (land), showing the path that our athletes have taken and the inspiration and support they have built along the way. Starting and ending with Te Mähutonga (the Southern Cross), the ribbon travels across the green hills, mountains and native forests of New Zealand to the beaches and bright lights of Rio de Janeiro.
The 'Road to Rio' is represented on these intricately designed coins, which reflect the 'Be the Inspiration' theme. The issue consists of a 1oz silver and ½oz gold proof coin with selected colour on each, and limited worldwide mintages.
Highlights
- Minted from 0.999 silver with selective colour
- Limited worldwide mintage of 2,016
- Official licensed product
- Represents the journey from New Zealand's beautiful landscape to the world stage in Rio
- Celebrates the sports in which New Zealand has previously won gold medals
- Presented in an elegant black case, featuring imagery from the 'Be the Inspiration' campaign
- Each coin includes a unique numbered certificate
Design
The design of this 1oz silver proof coin depicts the journey of our Olympic athletes, from training in New Zealand's breathtakingly beautiful landscape to their ultimate destination of Rio.
The outer rim features elements of NZOC's 'Be the Inspiration' ribbon, with ten icons representing the sports in which New Zealand has previously won gold medals. The centre of the design features the symbolic Olympic torch and the NZOC logo.
It is housed within an elegant black case featuring imagery from the 'Be the Inspiration' campaign, and is limited to just 2,016 worldwide. An individually numbered certificate is included inside.