Shipping: Shipping fees start from GBP £2.99
JERSEY - Remembrance Poppy Silver Proof £5 Coin - Silver Coin
JERSEY - Remembrance Poppy Silver Proof £5 Coin - Silver Coin for only GBP £90.00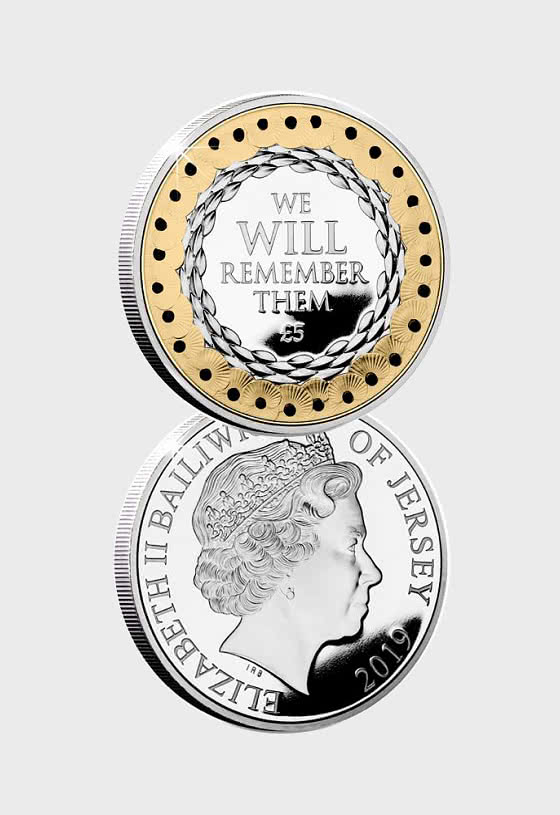 01.12.2019

-

-

925/1000 Silver with selective 24ct Gold-Plate

28.28g

-

Diameter: 38.61mm

£5
About JERSEY - Remembrance Poppy Silver Proof £5 Coin
The 11th November is a poignant day when the nation gathers and falls silent to remember the fallen men and women from conflicts past and present. Poppy wreaths are laid on cenotaphs and memorials all over the country and indeed the world.
As a tribute to those who have made the ultimate sacrifice, a brand new £5 Coin has been issued for 2019 in support of The Royal British Legion.
We Will Remember Them
This year's design features a wreath of stylised Royal British Legion poppies inspired by the wreath from the Cenotaph. The wreath of poppies have been selectively coloured in gold ink and encircles the text 'we will remember them' which has been engraved in the centre of the coin.
2019 marks the Centenary of the unveiling of the Cenotaph and this coin design is symbolic to this anniversary.
Sterling Silver and Proof Finish
Each coin has been struck in .925 Sterling Silver to an immaculate Proof Finish – the highest finish available which is enhanced further by the intricately coloured gold poppies.