2020 Decimal Coin Set - Coin Year Set
2020 Decimal Coin Set - Coin Year Set for only GBP £37.50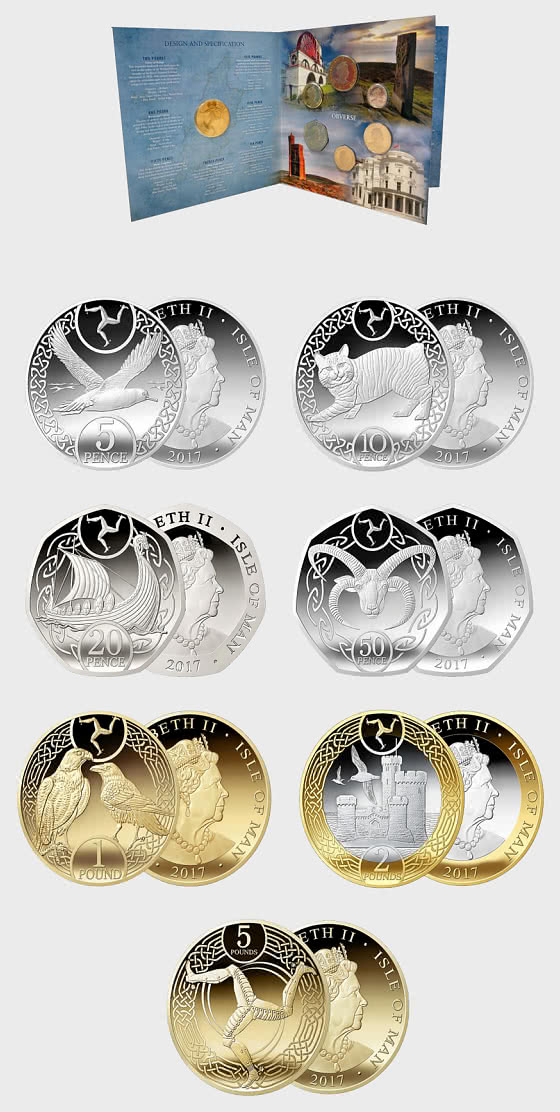 About 2020 Decimal Coin Set
For the year of 2020, Tower Mint Ltd on behalf of the Isle of Man Government has issued a new collection of circulating coins.
The collection of designs portrays a combination of historic landmarks, themes and traditions of the Isle of Man. The obverse depicts the approved Queen Elizabeth II effigy portrait, created by Jody Clark for the use on Crown dependencies and Commonwealth countries.
Five Pence- Manx Shearwater The five pence design depicts the Manx Shearwater, it is a medium-sized shearwater in the seabird family "procellaridae", it is an amber-listed species of particular conservation concern on the Isle of Man.
Ten Pence- Manx Cat The Ten Pence design depicts the famous Isle of Man, Manx cat best known as being entirely tailless; this is the most distinguishing characteristic of the breed, along with elongated hind legs and a rounded head.
Twenty Pence - Viking Longship The Twenty Pence design depicts a typical scene of a sailing Viking Longship. The Isle of Man has a significant Viking heritage; key symbols are Odin's Raven and Viking Longships.
Fifty Pence - Manx Loaghtan The design depicts the Manx Loaghtan, a breed of sheep native to the Isle of Man. The sheep have dark brown wool and usually four or occasionally six horns.
One Pound - Raven and Falcon The coat of arms of the Isle of Man was granted by Elizabeth II, Lord of Mann, on 12 July 1996. In the coat of arms we can find Dexter and Sinister heraldry symbols of a peregrine falcon and a raven.
Two pounds - Tower of Refuge This important landmark was built upon the reef on the orders of Sir William Hillary, founder of the Royal National Lifeboat Institution in 1832. After several shipwrecks upon the semi-submerged rock, he wanted a refuge for survivors until help could arrive.
Five pounds - Triskele symbol, used as an overarching symbol on the highest denomination The triskelion is arguably the most known symbol of the Isle of Man, it is included in both the coat of arms and the flag of the Isle of Man.
The Obverse Design- Queen Elizabeth II Effigy by Jody Clark
The obverse design will be an effigy created by UK designer and sculptor Jody Clark, known for his 2015 effigy of Queen Elizabeth II used on UK coinage. The effigy has been created for use on Crown dependencies and Commonwealth countries.