Shipping: Shipping fees start from GBP £2.99
JERSEY - King Charles III Coronation Proof £5 Coin - Single Coin
JERSEY - King Charles III Coronation Proof £5 Coin - Single Coin for only GBP £25.00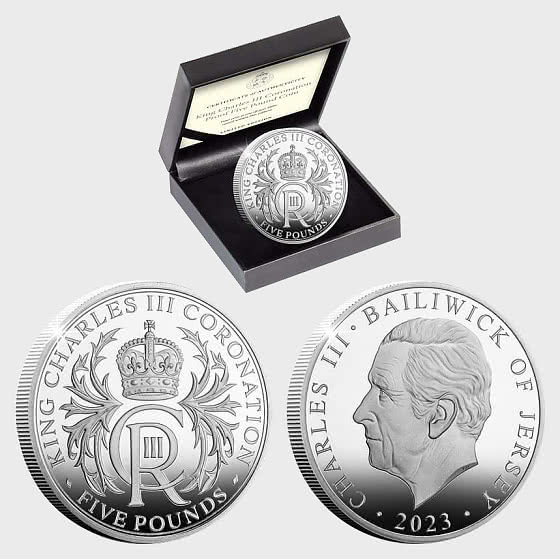 27.02.2023

Cupro-Nickel

28.28g

38.61mm

£5
About JERSEY - King Charles III Coronation Proof £5 Coin
Today, you have the chance to own the official £5 coin issued by Jersey to celebrate the Coronation of King Charles III on 6 May 2023.
This historic event will have a huge impact on the collecting world, so we expect demand to outstrip availability. In fact, the "Mint Masters" Silver Set sold at a rate of one a minute to sell out in less than 2 hours.
And there are a couple of things that make this BRAND NEW coin especially collectable…
It's a once in a lifetime event. The Coronation of His Majesty will be etched in history — for the majority of the nation, this will be the first Coronation they've ever witnessed.
It's been struck to a Proof finish. That means it's been struck several times using specially polished dies to create a flawless finish.
It's strictly limited to JUST 4,995 coins. That's a tiny number for such an important historic event, so a sell-out looks guaranteed.