Shipping: Shipping fees start from GBP £1.40
Booklet Architecture - Stamp Booklet
Booklet Architecture - Stamp Booklet for only GBP £5.98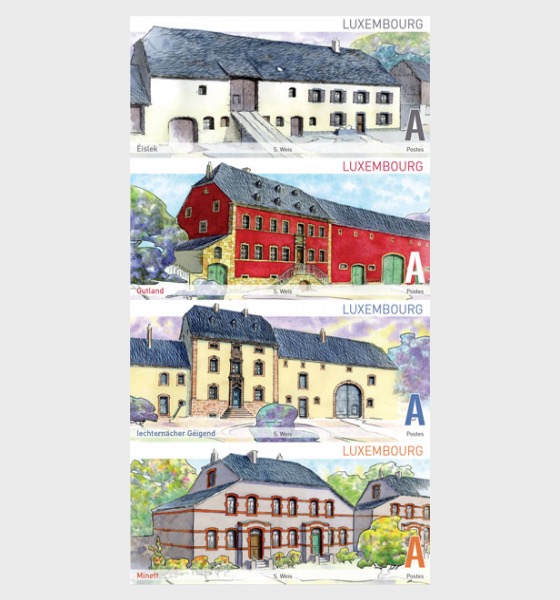 06.11.2011

Cartor Security Printing

Offset Lithography

230 x 75 mm

4.80 Euros
About Booklet Architecture
P&TLuxembourg has created a self-adhesive postage stamp booklet around the theme of architecture in Luxembourg.
The booklet illustrates 4 types of construction in regions around the country. It includes 8 postage stamps with an "A" value (franking of standard letters up to 50 g within Luxembourg).
From a historical point of view, construction materials used in Luxembourg always had a local origin (forests and exposed rock). In the Eisleck, shale, covered in a lime coating, has influenced local construction and has also supplied slate used as a roof-covering material across the country. The traditional landscape is, among other things, defined by the "red" farms in the Rédange region and the richly decorated buildings of the region around Echternach. The latter have been influenced by the architectural style of the abbey. The architectural development of the "Red Earth" region (Minette) has been dominated by largescale working-class cities. Brick houses primarily made out of local marl are the trademark of this habitat.
Luxembourg - Recommended stamp issues
WOPA+ recommended stamp issues