Shipping: Spend over GBP £55.03 to receive free shipping
Salon Paris Philex 2018 - Orphans of War - Miniature Sheet
Salon Paris Philex 2018 - Orphans of War - Miniature Sheet for only GBP £27.52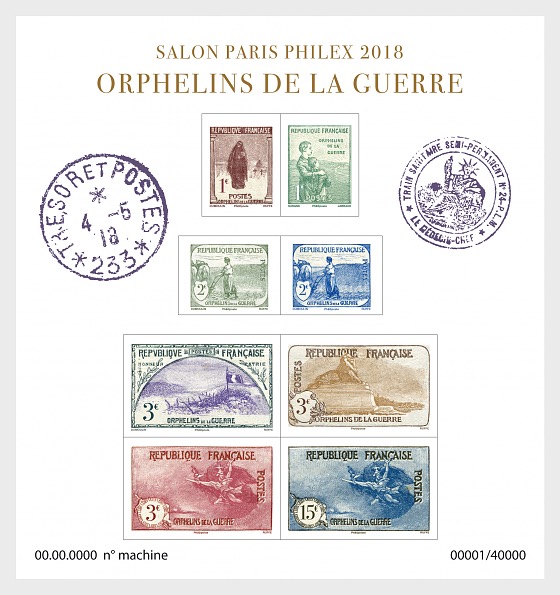 About Salon Paris Philex 2018 - Orphans of War
A block issued as part of programs related to commemorations of the 1st World War.
Resumption of the series of stamps issued in 1917 (7 stamps in 1917 + 1 issued in 1919) for the benefit of war orphans.
Considered as the 1st French commemorative series and the most prestigious series of the 20th century.
Originally, the amount of facials and surcharges have limited the number of buyers, these stamps have little use on the mail, there is very little complete series on philatelic letters.
Product presentation
The block of 8 stamps is printed in the type of original printing, typography.
- with dating, machine number and continuous numbering.
- presented in a crystal pouch, accompanied by a text written by Bertrand Sinais, member of the Philately Academy.
France - Recommended stamp issues
WOPA+ recommended stamp issues