Shipping: Spend over GBP £18.16 to receive free shipping
Heros - Titan Helmet - Set
Heros - Titan Helmet - Set for only GBP £2.45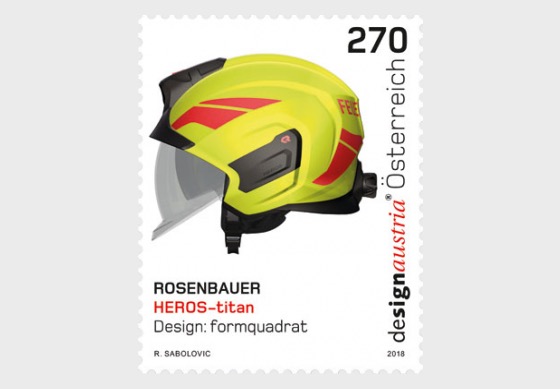 About Heros - Titan Helmet
Increased safety and success thanks to design
With its HEROS-titan helmet, the Upper Austrian family-run fi rm created a piece of Austrian history. Austrian Post is celebrating this innovation with a special stamp.
Design defines the intersection of creativity and innovation and thus determines not only the composition of products and services, but also how economically viable and competitive they are. Good design is a tool for the strategic planning of a market presence. As a knowledge centre and interest organisation, designaustria, which was founded in 1927, not only gives Austrian designers and those who employ them a strong voice, but it also highlights awareness of design and makes clear the benefits of design to society and the economy.
HEROS-titan: a top-class fi refi ghting helmet
This product scores points both for safety and for design thanks to its integrated functionality. The HEROS-titan combines the highest level of protection with a perfect fit and light weight. At just 1.3 kilograms, the low weight and the individually adjustable fit ensure maximum wear comfort. The helmet is equipped with a torch, which can be adjusted to fit the situation; a protective visor and an optional thermal imaging camera. The HEROS-titan was designed by formquadrat, which was set up in 1997 as an industrial design agency. Owners Stefan Degn and Mario Zeppetzauer have a few things in common: both were born in 1970 in Gmunden, both graduated in design from Linz University of Art and Design and both feel it is their mission to make the world a little bit more pleasant to live in through unique design solutions. Their exceptional skill and continued engagement, under the motto"uniqueness", is demonstrated by more than 90 renowned international awards.
The listed family firm Rosenbauer International AG is now in its sixth generation and designs and produces vehicles, extinguishing technology and equipment for fire services and for preventative fire protection systems. Now a global company, Rosenbauer is the leader in innovations and technology for firefighting technology and equips fire services around the globe.
Austria - Recommended stamp issues
WOPA+ recommended stamp issues