Shipping: GBP £4.24 Worldwide shipping fee.
(Vienna) - Definitive 2018 - (Set Mint €0.90) - Set
(Vienna) - Definitive 2018 - (Set Mint €0.90) - Set for only GBP £0.85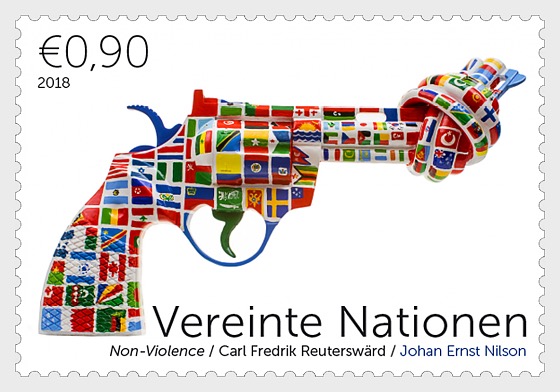 02.10.2018

Carl Fredrik Reuterswärd/Johan Ernst Nilson

Royal Joh. Enschedé (The Netherlands)

Offset Lithography – (Hexachrome)

50mm x 20mm

€ 0.90, €2.30
About (Vienna) - Definitive 2018 - (Set Mint €0.90)
On 2 October 2018, UNPA will issue three definitive stamps featuring images of "The Knotted Gun – Non Violence". This well-known sculpture for peace and non-violence, was created in 1980 by the Swedish artist Carl Fredrik Reuterswärd as a tribute to John Lennon. Knotted Gun sculptures are placed in more than 30 strategic locations worldwide, including the United Nations Headquarters in New York City, the Olympic Museum in Lausanne and the Peace Park in Beijing. The knotted gun Non-Violence sculpture is used as a symbol by the Non-Violence Project Foundation, a non-profit organization promoting peace and social change through education; to inspire, motivate and engage young people to understand how to solve conflicts peacefully. The artwork for the US$ 0.01 definitive stamp is an engraving by Martin Mörck (Norway). The € 0.90 and € 2.30 definitive stamps are painted gun sculptures which are part of the Non-Violence Art Project.
[read more]
United Nations - Recommended stamp issues
WOPA+ recommended stamp issues