Shipping: Spend over GBP £19.03 to receive free shipping
125 Years of the Gmunden Tramway - Set
125 Years of the Gmunden Tramway - Set for only GBP £2.57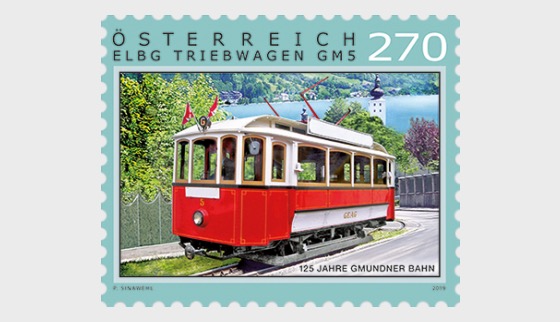 About 125 Years of the Gmunden Tramway
An asset Gmunden is inclined to be proud of
One of the first electric railways in Austria is celebrating its 125th anniversary: still todaythe Gmunden tramway remains one of the region's most important public transportnetworks, even being extended in 2018 to become the Traunsee tram.
During the 19th century Gmunden was an important transport hub. It had been the departure point for one of the first railway routes on the continent, the horse-drawn Gmunden–Linz–Budweis railway, since 1836, and in 1877 the city was linked to the standard-gauge railway network via the Rudolf Railway. However, Gmunden railway station was situated at some distance from the city centre, and this made the introduction of a local railway network indispensable. The mayor of Gmunden, Alois Kaltenbruner, advocated a modern electric railway, as electrification of the city would then also make good economic sense. As a result, in 1894 the company Stern & Hafferl began work on the construction of a steam power station to provide the necessary power and building of the tramway's facilities.
The Gmunden tramway was opened shortly afterwards on 13th August 1894. The one-metre- gauge single-track railway with a length of around 2.5 kilometres had to cope with an incline of 10% and is thus one of the steepest adhesion railways in the world. The journey lasted around 15 minutes. The Jugendstil GM 5 tramcar from 1911 depicted on the commemorative stamp is still in operation today. However, the designation ELBG shown on the stamp was only used on the very first cars used by the Gmunden tramway. When tramcar 5 was purchased the owner of the tramway was GEAG, as can be seen on GM 5.
The tram of the future
Locals and visitors to Gmunden have been conveyed by the tramway for decades. In 1975 the route was shortened, making travelling by car easier, and in 1989 it seemed that the tramway would have to be shut down altogether. However, committed citizens of the citydemanded that the tramway's route instead be extended to include the city centre once again and founded the "Pro Gmundner Straßenbahn" association. As a result of manyactions undertaken over the decades, the Gmunden tramway became the modern Traunsee Tram, connecting the communities of Gmunden, Gschwandt, Kirchham and Vorchdorf since 1st September 2018.
Austria - Recommended stamp issues
WOPA+ recommended stamp issues