Shipping: Spend over GBP £18.16 to receive free shipping
100th Anniversary Of The Lipizzaner Stud Farm In Piber - Set
100th Anniversary Of The Lipizzaner Stud Farm In Piber - Set for only GBP £0.91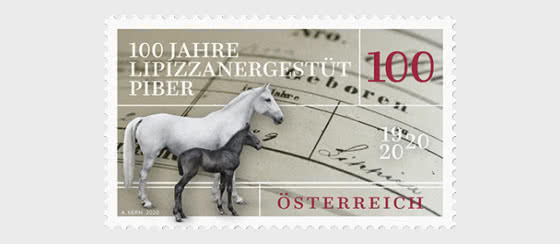 About 100th Anniversary Of The Lipizzaner Stud Farm In Piber
The next generation for the imperial riding school
In 7920 the Lipizzaners, the famous white horses, found a new home in Piber in Styria. Austrian Post is congratulating the Lipizzaner stud farm on its 100th anniversary.
The history of the Spanish Riding School in Vienna can be traced back to the 16th century when a riding arena was erected close to the Hofburg and the Habsburg's horses were housed in the Stallburg. In 1580 Archduke Charles II founded a stud farm in Lipica in what is now Slovenia, in which horses which originally came from Spain but were later crossed with Arabian horses were bred. It was from these horses that the Lipizzaner developed, nowadays considered the oldest horse breed in Europe. Distinguishing features of the Lipizzaner are the elegant body shape, graceful movement, vivacity and endurance and their appearance fits the bill of the classic dressage, show and parade horse.Since 2016 "Knowledge of Lipizzaner breeding" has been included in the intangible cultural heritage of Austria.
Nowadays around 40 foals are born each year at the Lipizzaner stud farm in Piber, a district of the city of Köflach. They are all descended from 6 stallion lines and the 17 classic stud families which can be traced back to the 18th century. They spend their early years in Piber. Only the very best stallions will undergo the many stages of training for the "High School" of classic equestrianism, starting at the age of four, and subsequently be employed in the performances at the Spanish Riding School.
Austria - Recommended stamp issues
WOPA+ recommended stamp issues