Shipping: Spend over GBP £54.53 to receive free shipping
Heritage Lot 2020 - Collectibles
Heritage Lot 2020 - Collectibles for only GBP £81.82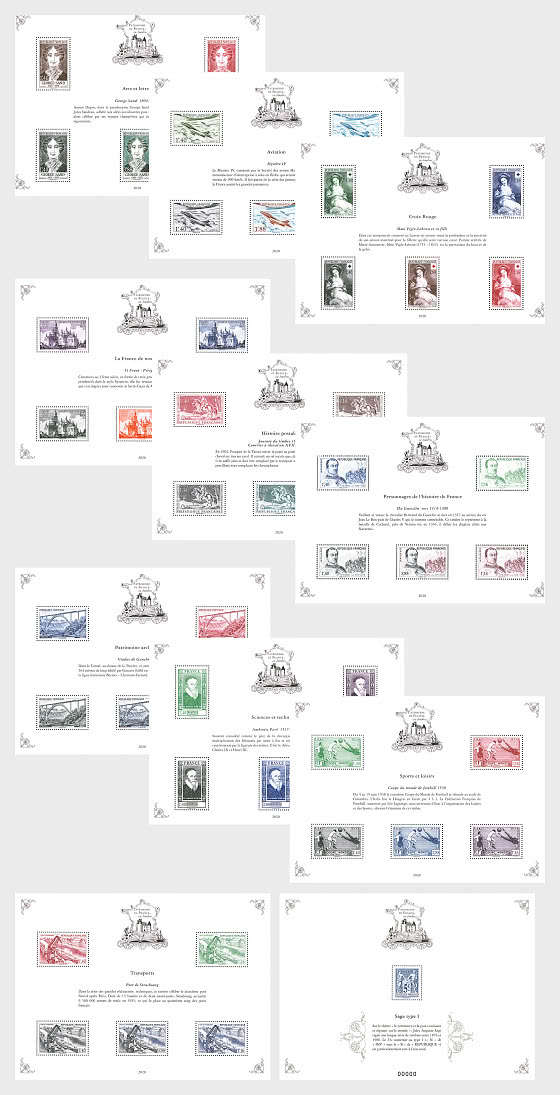 About Heritage Lot 2020
The postage stamp is a fabulous tool for general culture, for learning about disciplines as varied as history, geography, science or the arts.
The Heritage of France in stamps series revisits ten postage stamps of our heritage from the perspective of the theme, in 2020:
The Arts and Letters: stamp YT 1112 George Sand
Aviation: YT PA30 Mystery IV stamp
The French Red Cross: stamp YT 966 mrs Vigée-Lebrun and her daughter
France of our regions: stamp YT 774 St-Front - Périgueux
Postal history: stamp YT 1018 Stamp day - The balloon post 1870
The characters of the History of France: stamp YT 928 Viaduc de Garabit
The architectural heritage of France: stamp YT 1295 Du Guesclin
Sciences and techniques: stamp YT 589 Ambroise Paré
Sports and recreation stamp: YT 396 FIFA World Cup
Transport: YT stamp 1080 Port of Strasbourg
All the ten-leaf pockets are accompanied by a gift leaf with an emblematic commonly used stamp. For 2020, the Sage 25c 1st series type stamp has been reissued.
The set is presented in a cream-colored envelope with the logo in silver.
France - Recommended stamp issues
WOPA+ recommended stamp issues