Shipping: Spend over GBP £54.53 to receive free shipping
93rd FFAP Palais Galliera Congress - Set
93rd FFAP Palais Galliera Congress - Set for only GBP £1.05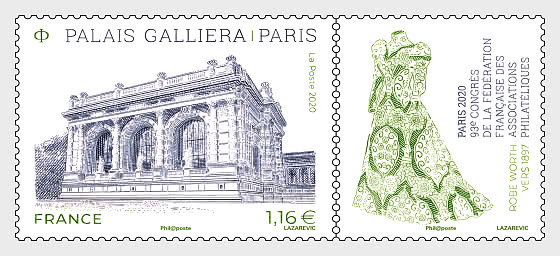 18.11.2020

Sarha Lazarevic

Sarha Lazarevic

-

Taille Douce

-

-

€1.16
About 93rd FFAP Palais Galliera Congress
"A stone's throw from the most prestigious showcases of couture, the Galliera museum is housed in a Renaissance-inspired palace with a garden. Built at the end of the 19th century, this beautiful stone monument hides a metal structure designed by Gustave Eiffel's agency. If its primary vocation was to house the private collection of Marie Brignole-Sale, Duchess of Galliera, history decided otherwise. Completed in 1894, after the disappearance of the Duchess, whose sculptures and paintings and precious objects left for Genoa, his birthplace, the building was bequeathed to the City of Paris.It was only much later, after many adventures, that it became a museum dedicated to fashion.
The birth of the museum
In 1907, Maurice Leloir, historian and collector, founded the Society for the History of Costume. When in 1920, he donated his collection - 2,000 costumes and accessories - to the City of Paris, he matched it with a condition: to create a Costume Museum. Initially, Carnavalet hosted the collection and, on November 23, 1956, it was rue de Sévigné that the City of Paris costume museum was inaugurated. Due to lack of sufficient space, his exhibitions are presented at the Museum of Modern Art. Finally, in 1977, the museum moved into its walls, at the Galliera Palace. The institution was modernized and adopted, in 1997, its current name of "Galliera, Fashion Museum of the City of Paris".
The Galliera Museum is the Fashion Museum of the City of Paris
The museum's collections, with more than 200,000 items of clothing and accessories, are among the richest in the world. These pieces reflect the codes of clothing and dress habits in France, from the 18th century to the present day. Extravagant or precious, simple or everyday, they bear witness to the creative genius of fashion - even in its most contemporary expressions.
Major events
Through exhibitions that were until then temporary, the museum presented and staged some of its priceless and fragile collections. These monographic exhibitions (big names in couture and fashion figures) or thematic (decades, types of clothing, modes of distribution, influence plays) attracted ever-increasing numbers of visitors."
France - Recommended stamp issues
WOPA+ recommended stamp issues