Shipping: Spend over GBP £18.00 to receive free shipping
The Garnet Chapel at Penken - Set
The Garnet Chapel at Penken - Set for only GBP £2.48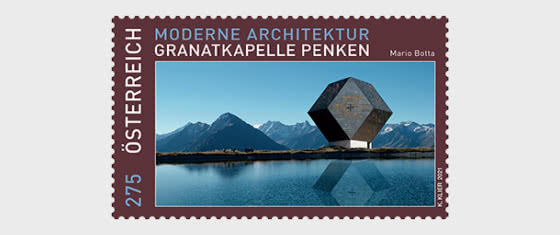 About The Garnet Chapel at Penken
Modern architecture: the distinctive Garnet Chapel Penken in the Zillertal Alps
The commemorative stamp shows the Garnet Chapel on the shore of a reservoir on the Penkenjoch in Tyrol's Zillertal valley. The modern structure was designed by Swiss architect Mario Botta.
Located at 2,087 meters above sea level on the sunny plateau of the Penkenjoch, the chapel stands out due to its striking design. Twelve rhombus-shaped surfaces clad with Corten steel panels form the shape of a polished garnet. This gem has a special tradition in the Zillertal as an ornamental stone for traditional costumes. The strictly geometric design language is a trademark of the renowned Swiss architect Mario Botta. The interior walls of the chapel are kept simple and straightforward and lined with larch wood.
The Garnet Chapel is dedicated to Blessed Engelbert Kolland, a Franciscan priest from the Zillertal. He was murdered in 1860 in his mission station in Damascus and beatified in 1926. His portrait as well as the altar made of walnut wood were created by the Tyrolean artist Markus Thurner. The chapel was consecrated on September 22nd 2013 - the day of Engelbert Kolland's baptism.
Austria - Recommended stamp issues
WOPA+ recommended stamp issues