Shipping: Shipping fees start from GBP £6.91
Politehnica University Timisoara, One Century of Education and Innovation - Set
Politehnica University Timisoara, One Century of Education and Innovation - Set for only GBP £1.58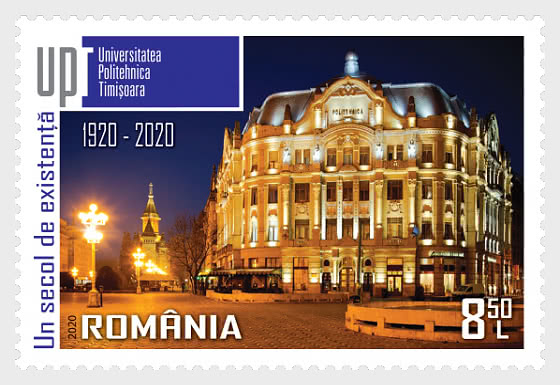 18.02.2020

Mihai Vămășescu

Offset

4 Colours

Stamp size: 48 x 33 mm; Minisheet of 5 stamps + 1 label: 158 x 92 mm Perforated svouvenir sheet: 124 x 112 mm (stamp size: 63 x 27 mm)

8.5L and 28,5L (souvenir sheet)
About Politehnica University Timisoara, One Century of Education and Innovation
Romfilatelia welcomes science enthusiasts, by introducing into circulation, on Tuesday, February 18th, current year, the postage stamps issue Politehnica University Timișoara, one century of education and innovation.
The postage stamps issue, that contains a stamp and a perforated souvenir sheet, is dedicated to the anniversary of the Politehnica University Timișoara, which celebrates, this year, a century since its establishment and marks the Centenary of the first higher education institution in the west of the country.
On the postage stamp of the issue, with the face value of Lei 8.50, the current building of the Rectorate of the Polytechnic University of Timișoara is illustrated, next to the logo of the institution.
The perforated souvenir sheet of the issue, with the face value of Lei 28.50, presents a graphic composition that illustrates the historical course of the institution, as follows: the image of King Ferdinand along with the anniversary logo of the Politehnica University Timișoara associated with the image of the Lloyd Palace (in 1920), the current headquarters of the University Rectorate and the facsimile of the founding decree are illustrated on the stamp.
Lloyd Palace was the place where, 100 years ago, on May 23rd – 24th, 1920, the first philatelic exhibition in Greater Romania was organized.
The Great Union of 1918 resurrects the hopes of Banat Romanians towards fulfilling a scientific and economic purpose, to truly identify the interest and requirements of most of the inhabitants of Banat, to establish a higher polytechnic school.
King Ferdinand I signed, on November 11th, 1920, the Decree Law on the establishment of the "Polytechnic School" in Timișoara, thus responding to the wishes of Romanians from Banat. We owe to this monarch, moreover, the memorable phrase spoken a few years later and which, in the meantime, became the motto of the university: "It is not the walls that make a school, but the spirit that reigns in it."
Since its establishment, the Polytechnic University of Timișoara has kept the quality record of the educational act which, doubled by a scientific research activity at the highest level, has resulted in generations of well-trained engineers, specialists in their field, who have established in the country and abroad the prestige of the Polytechnic School.
[read more]
Romania - Recommended stamp issues
WOPA+ recommended stamp issues