2021 100th Anniversary Of Arno Babajanyan - Miniature Sheet
2021 100th Anniversary Of Arno Babajanyan - Miniature Sheet for only GBP £2.83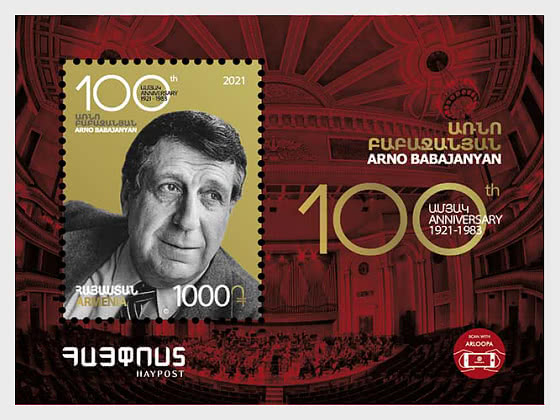 About 100th Anniversary Of Arno Babajanyan
On July 30th, 2021, a souvenir sheet with one postage stamp dedicated to the theme "Prominent Armenians. 100th anniversary of Arno Babajanyan" has been put into circulation.
The postage stamp of the souvenir sheet with the nominal value of 1000 AMD depicts the Armenian prominent composer, pianist and People's Artist of the USSR Arno Babajanyan (1921-1983).
The souvenir sheet depicts Aram Khachatryan Concert Hall, the inscriptions "100TH ANNIVERSARY" and "ARNO BABAJANYAN" in Armenian and English. The bottom right corner of the souvenir sheet depicts ARLOOPA application logo. By uploading ARLOOPA application and scanning the souvenir sheet with the mentioned application, you can enjoy Arno Babajanyan's "Nocturne" with his own performance.
Arno Babajanyan graduated from the Yerevan and the Moscow Conservatories. He composed in different styles - classical, pop, jazz. Due to his unique natural talent Babajanyan holds a special place in the history of the world music.
Armenia - Recommended stamp issues
WOPA+ recommended stamp issues