Shipping: GBP £6.31 Worldwide shipping fee.
2021 Posti's Art Award - Set
2021 Posti's Art Award - Set for only GBP £3.78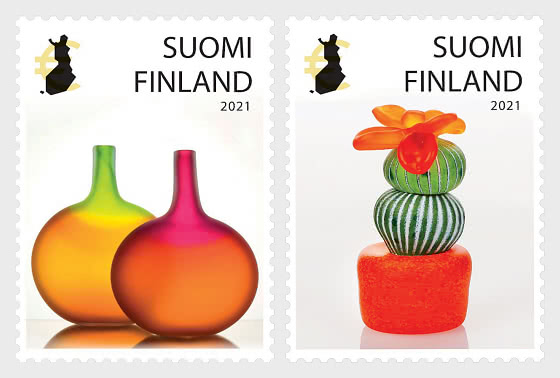 About Posti's Art Award
Posti gave its 2021 art award to glass artist Alma Jantunen, whose colorful and unique glass art will shine in two stamp designs. Jantunen creates glass sculptures that are inspired by living beings and plants. With the art award, Posti wants to raise the status of stamps and art and increase people's appreciation of them. The award may be granted to a person or group working in the field of art as a recognition and encouragement of visually interesting expression. The winner can represent visual arts or visual design more broadly, as long as the expression can be recreated in a stamp when it comes to its content or form. This is the fifth time Posti's art award has been presented. In 2017, the art award went to sculptor Jasmin Anoschkin, in 2018 to graffiti artist EGS, in 2019 to fashion designer Mert Otsamo and in 2020 to visual artist Janne Laine. Posti's Art Award 2021 will be issued as a 10-stamp sheet containing two different domestic non-value indicator stamp designs. The graphic design of the stamps is by Paula Salviander.
[read more]
Finland - Recommended stamp issues
WOPA+ recommended stamp issues