Shipping: GBP £3.52 Worldwide shipping fee.
2023
Art by Arnold Vegghamar - Set
2023 Art by Arnold Vegghamar - Set for only GBP £7.98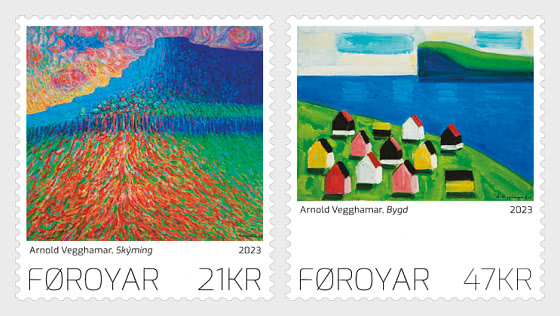 20.02.2023

Arnold Vegghamar.

Cartor Security Printers, France

Offset

21.00 DKK, 47.00 DKK
About Art by Arnold Vegghamar
The sharp blue and green formations of mountains and grass quiver in the yellow and red rays from the setting sun.
It is a magnificent natural experience which is displayed with full force and dramatic splendour of colours in the painting Twilight from 1993. The master behind this work, Arnold Vegghamar, is his own man both stylistically and motivically to such an extent that the viewer in front of one of his works is rarely in doubt as to the author's identity. The recognizable style is achieved because the visual artist endows a classic Faroese landscape painting with a distinct perspective, in many cases by going very close to the subject, just as he uses atypical effulgent range of colors.
[read more]
Faroe Islands - Recommended stamp issues
WOPA+ recommended stamp issues