Shipping: Shipping fees start from GBP £6.91
20 years of activity (1990-2010) – The Organisation Save the Children Romania - Set
20 years of activity (1990-2010) – The Organisation Save the Children Romania - Set for only GBP £0.71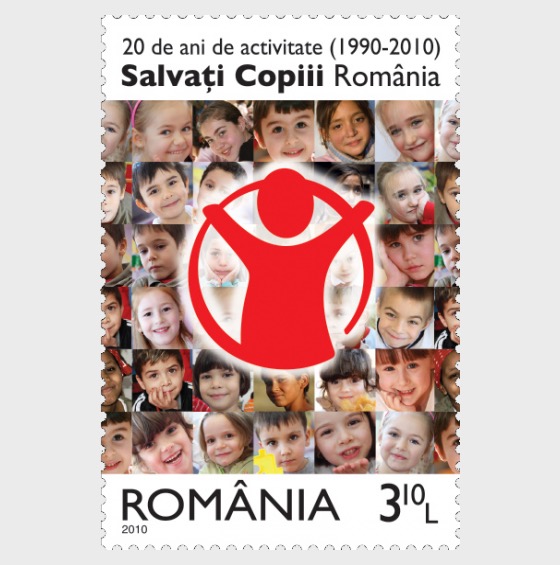 About 20 years of activity (1990-2010) – The Organisation Save the Children Romania
On the occasion of the 20th anniversary of the organization Save the Children Romania, Romfilatelia introduces into circulation the postage stamps issue entitled "20 years of activity (1990-2010) - The Organization Save The Children Romania". Over time, Romfilatelia has supported humanitarian campaigns, by introducing postage stamp issues, addressed to certain social categories, such as people with visual deficiencies, flood victims, children, as well as campaigns targeted on fighting cancer and drug consumption, engaging in this noble mission alongside governmental and nongovernmental institutions.

Save the Children Romania is a national non-governmental, non-profit organization, unaffiliated politically or religiously, which has been promoting children's rights since 1990, relying on the voluntary activity of its members. At present, the organization is developing programs in 20 cities; it has branches in 12 counties and Bucharest and over 6,000 members and 1,000 volunteers, especially young people.

Its vision is a world in which every child attains the right to survival, protection, development and participation. The mission of the organization Save the Children is to inspire breakthroughs in the way the world treats children and to achieve immediate and lasting changes in their lives.

Save the Children Romania carries out campaigns to inform and raise awareness in order to determine parents, legal representatives, teachers, the community itself, as well as authorities to act responsibly for supporting children.

Among the most important campaigns carried out by Save the Children Romania we mention: Bătaia nu e ruptă din rai (Beating is NOT from Heaven), Violenţa naşte violenţă (Violence Breeds Violence), Implică-te în combaterea cerşetoriei (Get Involved in the Fighting against Beggary), Marea, singura noastră dependenţă (The Sea, our Sole Addiction), Luna inimilor deschise (The Month of Open Hearts), Fii un super erou (Be a Superhero).

Save the Children Romania acts accordingly to the fundamental values laid down in the Universal Declaration of Human Rights and the United Nations Convention on the Rights of the Child. It is also an active member of Save the Children International – the largest independent global movement promoting the rights of the child worldwide. Save the Children Romania has joined some important national and international bodies and networks aimed at enforcing children's rights in Romania and other countries.
[read more]
Romania - Recommended stamp issues
WOPA+ recommended stamp issues