Shipping: Shipping fees start from GBP £3.85
Joint Issue - Kyrgyzstan and Belarus - (Set Mint) - Set
Joint Issue - Kyrgyzstan and Belarus - (Set Mint) - Set for only GBP £0.92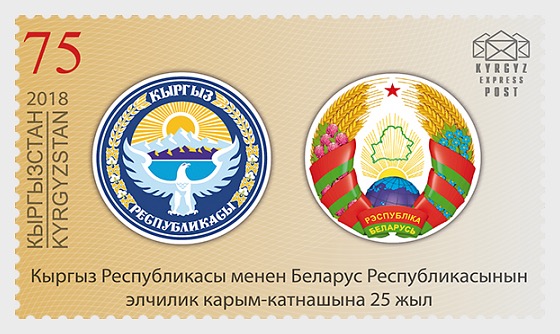 18.10.2018

Daria Maier

"Nova Imprim"

Offset Lithography

Full Colors

Stamp Size: 46.00 х 27.50 mm,
About Joint Issue - Kyrgyzstan and Belarus - (Set Mint)
In 2018, we celebrate the 25th anniversary of diplomatic relations between the Kyrgyz Republic and the Republic of Belarus. The Embassy of the Republic of Belarus in our country appealed to the Government of Kyrgyzstan with a proposal to implement, this year, a joint issue of postage stamps dedicated to this anniversary. The State Committee of Information Technologies and Communications of the Kyrgyz Republic assigned the postal operator "Kyrgyz Express Post" the important mission of implementing this proposal.
[read more]
Kyrgyzstan KEP - Recommended stamp issues
WOPA+ recommended stamp issues